BRENDA S. CATALANATTO, CPA
STEPHANIE STURGEON
Accountant
SHARON BOURGEOIS
Bookkeeper
MANDY ROUSSEL
Billing and Collections
JEANETTE ERICKSON
Receptionist
BRANDI CLAY
Administrative Assistant
TRACI SOILEAU
Administrative Assistant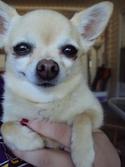 Sister Catalanatto
"Captain"
2002-2019
It is with great sadness that we share the news of the passing of Sister, our eldest security guard. She was a one of a kind friend and will be missed by all.

Ginger Catalanatto
"Sarge"
2007-2019
We lost another one of our beloved office puppies. Ginger loved having her back scratched and snuggling with her brother and sister in the sun. It was a privilege to be the one to lift her onto the couch. She has been sorely missed.
Buddy Catalanatto
"The Enforcer"
Cindy Lou Catalanatto
"The Rookie"
Important Tax Date
Don't wait until the last minute!